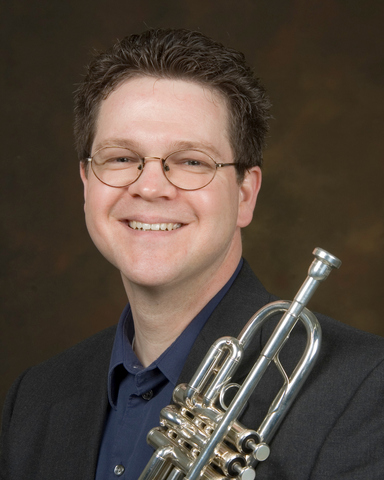 Daniel Kelly, a native of Charleston, SC, joined Texas A&M University-Commerce in the fall of 2010 after serving on the faculty of Indiana State University and the University of Southern Mississippi.

Dr. Kelly is a member of the Dallas Wind Symphony and has performed with the Plano Symphony, Northeast Texas Symphony, Mobile Symphony and Opera Orchestras, Gulf Coast Symphony, Mississippi Symphony, Meridian Symphony, Sinfonia Gulf Coast, Terre Haute Symphony and Brass Quintet, Philharmonia à Vent, Columbus Brass, The Prairie Ensemble, Champaign-Urbana (IL) Symphony and Brass Quintet, Baroque Artists of Champaign-Urbana (BACH), Peoria Bach Festival Orchestra and the Festival of Trumpets at International Trumpet Guild conferences in New York and Evansville, IN. Dr. Kelly was a featured presenter at the 2006 ITG Conference in Glassboro (NJ) and has presented solo recitals throughout the South and the Midwest. He is also a founding member of The Ambassador Brass Quintet, which has given concerts and workshops in the US, Thailand and China. Dr. Kelly has presented recitals and master classes at the Campina Grande International Music Festival (Brazil) and performed at the Classical Music Festival in Eisenstadt, Austria. Most recently, he performed as principal trumpet with the Colorado MahlerFest and presented brass quintet concerts and master classes in Vietnam and Thailand.

Dr. Kelly holds a BS in trumpet performance from Austin Peay State University in Clarksville, Tennessee, and a MM and DMA from the University of Illinois at Urbana-Champaign. His principal teachers include Michael Ewald, Ronnie Romm, Ray Sasaki, and Richard Steffen. He has been designated a Nationally Certified Teacher of Music (NCTM) by the Music Teachers National Association and is a member of the Music Teachers National Association, the Texas Music Teachers Association, the College Music Society, the International Trumpet Guild, Phi Mu Alpha Sinfonia, and the Honor Society of Phi Kappa Phi.

Dr. Kelly is a Yamaha Performing Artist/Clinician.